BOOKS WE LIKE


THE BURZYNSKI BREAKTHROUGH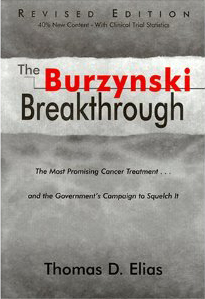 by Thomas D. Elias
The Burzynski Breakthrough is a remarkable story about hope in the fight against cancer. Stanislaw Burzynski was born to a well-to-do family in Poland in 1942. While in medical school, he became involved in research and eventually discovered peptides in blood and urine that warranted further study as anticancer agents. In 1970, about to be drafted into the army, Burzynski left for the U.S. Given a chance to continue his research in Houston, Burzynski ultimately developed antineoplastons and established a large clinic. During the next 25 years, some 2,500 patients came to him; many of them had "failed" with the generally accepted chemotherapy and radiation treatments. Burzynski infused them with antineoplastons through a chest catheter, achieving successful results in a substantial number of cases. The FDA and organized medicine, however, launched political and legal attacks against him.
KNOCKOUT:


Interviews with Doctors Who Are Curing Cancer--And How to Prevent Getting It in the First Place




By Suzanne Somers
Suzanne's new book, Knockout, relates her personal story with cancer in which she searches for doctors curing cancer with new techniques. In the book, Somers interviews pioneering MD's who successfully treat cancer patients using new or innovative treatments not recognized by the cancer establishment. The book brings to light information that the cancer establishment seeks to suppress, and indicts chemotherapy and mainstream cancer treatment as largely ineffective.
Now Suzanne Somers shares her personal choices and outlines an array of options from doctors across the country:
EFFECTIVE ALTERNATIVE TREATMENTS without chemotherapy, without radiation, and sometimes, even without surgery,
INTEGRATIVE PROTOCOLS combining standard treatments with therapies that build up the immune system, and
METHODS FOR MANAGING CANCER outlining ways to truly live with the disease.
Since prevention is the best course, Somers' experts provide nutrition, lifestyle, and dietary supplementation options to help protect you from getting the disease in the first place. Whichever path you choose, Knockout is a must-have resource to navigate the life-and-death world of cancer and increase your odds of survival. After reading stunning testimonials from inspirational survivors using alternative treatments, you'll be left with a feeling of empowerment and something every person who is touched by this disease needs…HOPE.
SUZANNE SOMERS is the author of eighteen books, including the #1 New York Times bestseller Ageless and the New York Times bestsellers Breakthrough; Keeping Secrets; Eat Great, Lose Weight; Get Skinny on Fabulous Food; Eat, Cheat, and Melt the Fat Away; Suzanne Somers' Fast and Easy; and The Sexy Years.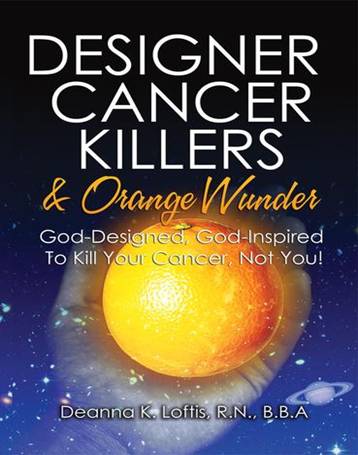 DESIGNER CANCER KILLER & ORANGE WUNDER: God-Designed, God-Inspired To Kill Your Cancer, Not You!
by Deanna K. Loftis, R.N., B.B.A
Deanna's newest book will tell you exactly what happened when a close family member of hers was recently diagnosed with stage IV inoperable cancer, and how God answered her prayers, giving her an amazing nutritional formula that helped him totally recover. She explains why each item in the formula is so important, not only for fighting cancer, but for fighting and preventing other chronic ailments and diseases as well.

She also discusses Dr. Burzynski's wonderful non-toxic antineoplastons that thousands of people have used to cure their cancer, giving several examples of those with "terminal" cancers, including children, whose parents were given no hope for them, totally cured with his stunning remedy. You can get this new book at all the online bookstores, request your local book store order it for you, or order the book through the author's website at: www.painlesscancercures. com, or at www.gentlecures.org.



GENTLE CURES FOR TOUGH CANCERS: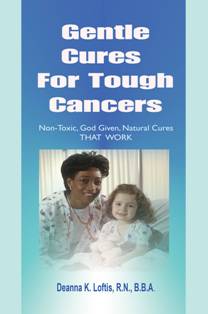 Non-toxic, God Given, Natural Cures THAT WORK
by Deanna K. Loftis, R.N., B.B.A
Deanna Loftis, RN, BBA, describes Dr. Burzynski's amazing cancer therapies in several chapters of her new book: GENTLE CURES FOR TOUGH CANCERS, with chapters on all major cancers and the most effective and current non-toxic treatments available today for each type of cancer.

GENTLE CURES FOR TOUGH CANCERS is Deanna's second book and is available at most major online bookstores. It can also be ordered at most local bookstores in the US, Canada, Australia, Scotland,Japan, France, India, and many other countries. In May 2010, GENTLE CURES FOR TOUGH CANCERS was announced as a FINALIST in the National INDIE EXCELLENCE Book Awards for 2010 in their Health and Well Being Category. This is the 3rd time Deanna's books have received awards in the very competitive literary world. She was also a guest speaker at the Cancer Control Society's three day convention in 2007. This 750 page book is vastly updated from PAINLESS CANCER CURES, Deanna's first book. In 2007, PAINLESS CANCER CURES became an Award-Winning FINALIST in the Health category of the NATIONAL INDIE EXCELLENCE 2007 Book Awards. This book also won FIRST PLACE IN THE 2006 INTERNATIONAL JADA BOOK OF THE YEAR AWARDS FOR NON-FICTION, and was also announced as the best-selling book for JADA Press in 2006. You can get this new book at all the online bookstores, request your local book store order it for you, or order the book through the author's website at:www.painlesscancercures. com, or at www.gentlecures.org.
SILENT ENEMY:
Environmental Illness and One Woman's Search for a Cure
By Faye Hueston
Faye Hueston's immune system collapsed in 1985. Unable to find the cause, doctors dismissed her symptoms as "psychosomatic." Eventually, a clinical ecologist in London proved the cause to be chemical poisoning. After numerous attempts to detoxify her body failed, she discovered a relatively unknown alternative nutritional cancer therapy. Although it required a radical change in lifestyle, in two years her health was restored.
Other themes of the book arethe importance of diet and eating organically, the pharmaceutical industry's control of the media and its immense political power, and the suppression of successful non-toxic cancer cures by the FDA, the AMA and the American Cancer Society.

GALILEO'S LAWYER: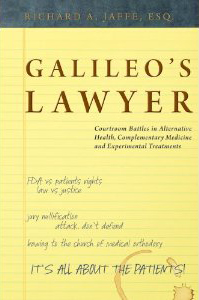 Courtroom Battles in Alternative Health, Complementary Medicine and Experimental Treatments
by Richard Jaffe, Esq.
If you are someone with an interest in alternative or holistic health . . . Galileo's Laywer is required reading. Written by Richard Jaffe, Esq., a noted defense attorney who has battled for years in the trenches fighting to preserve freedom of choice in healthcare, and to protect the rights of those who dare to make a difference in their patients' lives by practicing out of the mainstream of traditional medical thought. Galileos Lawyer manages to accomplish something not often seen in books of this type - it is both educational and riveting. Jaffe represented the Houston complementary and alternative medicine pioneer, Stanislaw Burzynski, in what Jaffe describes as The Burzynski Wars. If you are somewhat new to the idea of alternative health, you will find Galileo's Lawyer eye-opening. If you have some experience in this realm, the book will only confirm what you have always suspected, as Jaffe deftly details the courtroom wars and the governmental and special interest group over-reaching that has been the norm in the alternative heathcare arena. Galileo's Laywer makes it easy to see the importance of protecting the individual's right to choose the type of healthcare options to follow, along with the need to bring balance and reasonableness to the government's role in policing healthcare. As Jaffe points out, this balancing act continues, and it is up to each of us to be aware and be informed about the issues.
LOVE AND GRIT; Kicking Cancer Our Way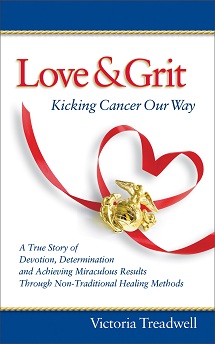 By Victoria Treadwell
"You have three, maybe six months to live,"said the neurosurgeon.
Jim and Victoria were a newly married couple; he a former U.S. Marine Lieutenant Colonel and avid surfer, she a devotee of meditation and personal spiritual development. Together, they were determined to beat Jim's stage IV brain cancer. Following the failure of chemotherapy and radiation, with no other viable options, they explored and ultimately embraced alternative healing methods, including the Burzynski treatment.

This is their successful journey; infused with humor, patient advocacy, thoughts on caretaking and creating one's reality. An empowering account for anyone searching for inspiration in overcoming cancer.

This remarkable book is available on amazon.com in paperback and Kindle. You may find more information at the loveandgrit.com website.