Alexandra Kowal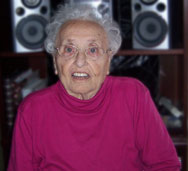 Alexandra was diagnosed with lymphoma in February 1981. The tumour was large and wrapped around the aorta thus preventing removal of the tumour. Therefore, chemotherapy was recommended. She managed to complete the treatments but six months after, the medical team advised that the tumour had grown back to the original size and more chemotherapy treatments would be needed. Alexandra decided against additional chemotherapy and sought other alternatives.
Hence, Dr. Burzynski came into our lives. We read about his treatment in MacLean's magazine, phoned the clinic the next day and made travel arrangements to leave for Houston – all in 3 days!
My mother and I arrived in Houston in November 1982 to start treatments with the Burzynski medical team. Alexandra is one of the original surviving patients of Dr. Burzynski's cancer treatment and continues to serve as "ambassador" of the clinic to family and friends.
Alexandra will be 88 years old in August. She continues to live a healthy lifestyle and enjoys watching her grandchildren grow into young adults.
We continue to spread her successful recovery and thank the doctors at Burzynski Medical Clinic for their continued work in the search for cancer cures.
Written by
Lida Kowal
Mississauga, Ontario Canada